We discuss often about what agile methodology IS, but today I want to address one of the most frequent NONagile practices done by who think that they have mastered the methodology. While what I will introduce is nothing new, it always helps to have several voices in the choir to ensure everyone hears.
How the dialog goes …
« We develop in two week iterations. »
Automatically agile?
FAUX – FALSE
« We develop and deliver to production in two week iterations. »
WARMER – Tell me more
« We develop and deliver to production, in two week iterations, customer value (or our best guess) »
AGILE
« We develop and deliver to production, in two week iterations, customer value experiments that have results we can measure. »
AGILE + LEAN: ENLIGHTENMENT
Agile DOES NOT equal just iteration. It equals iterative and utilized VALUE. Just see the first principle on the manifesto, if you do not believe me.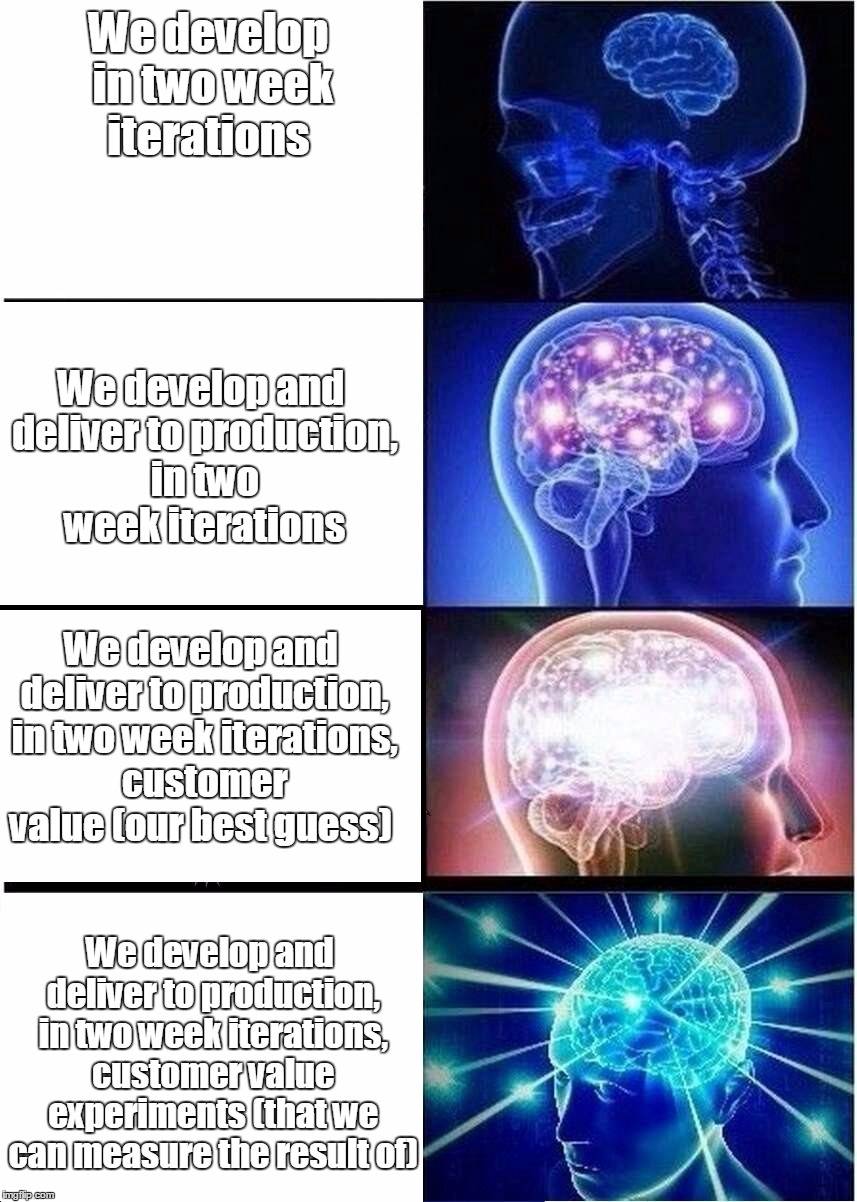 While shorter development cycles are a good first step, do not stop there:
Your end game is to get the product out as soon as possible with the best value and quality, so that it is used… or better… yet bought.

If you build a product in an iterative manner and it does not get used by any sort of customer until 6 months or a year later, it is still waterfall.
Agile is challenging yourselves as a team (all voices included) to find the smallest iteration or story "slice" that can be actually released (even in beta) for the best beginning value. It may not be perfect, but it is a start that will already get you feedback! Feedback is the most precious-ness… my precious…
And as indicated above, the best of all, is when you measure the results to see you were successful. But that can be a whole article for another time.
EVERYONE LOVES A METAPHOR (AND S'MORES)
I think of Agile delivery planning as a campsite rather than a house.
A house is meant for sleeping and eating. First the foundation is poured, then the structure is built, the insulation is added, etc. This is all well and fine if no one is going to live in the house until the end.
But here is a test… if someone wanted to move in half-way through the construction, can they sleep and eat in my house?
Not if they like a soggy head and soggier toast when it rains!
Same goes for your product. Always ask, "If after this sprint if the project is immediately canceled, would what we have still be useful?" Trust me as someone who has had projects cancelled mid-sprint that you will be happy you built it in this way.
A campsite though is a better example of how you should construct your product: a campsite is meant for sleeping and eating as well but built quickly and modularly, delivering value with each part. First a tent (already able to sleep in, and your food will stay dry), a firepit for cooking, then some stools as our legs get tired while heating s'mores, etc…
Get started building your campsite. There are bears!
For better slicing based on value, I suggest these resources to get started:
Also, good technique is when looking at your first planned iterations, to step back and ask yourself :
Does this serve the base customer value that I want to test?

Can I do this more simply?
You can test this further by actually removing a part of the product and then looking back at question #1.
Something to think about: For team leaders, project managers, etc, how do you splice your projects in general? Is it a roadmap with no deliverables for three months, six months, or a year even? Why not apply the same technique?
Good luck, Happy Campers! Avoid those waterfalls; there are bears there!